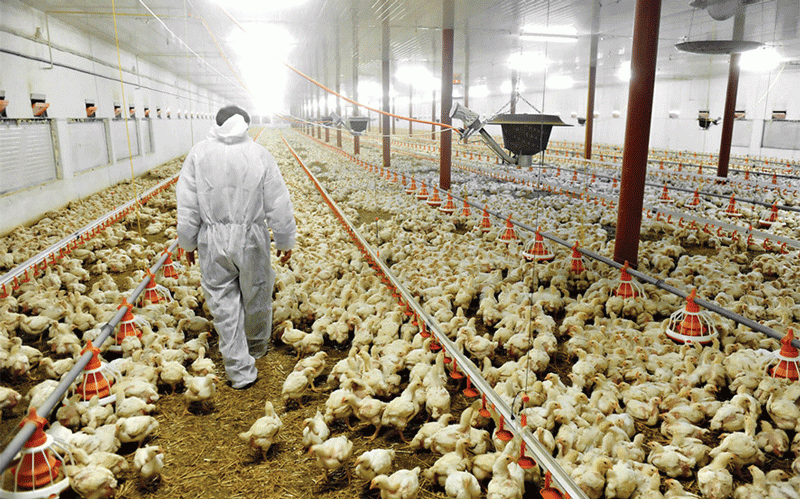 ZIMBABWE'S poultry sector registered a 6,2% growth during the second quarter of this year compared to the same period last year, after producing an average of 23,3 million day-old chicks, data gathered from the industry body shows.
According to the Zimbabwe Poultry Association (ZPA)'s second quarter report, the production of broiler day-old chicks rose by 6,2% from 7,3 million to 7,75 million per month.
"The broiler industry is achieving 66% hatchability. On average, about 1,51 hatching eggs per every commercially viable broiler day-old chick produced," the report read.
The report shows that total monthly production of broiler meat has increased by 26% from 12 312 tonnes (t) in the second quarter of last year to an estimated 15 534t in the second quarter of 2022.
"No significant stocks of broiler meat have been reported this year. The large-scale commercial poultry houses including major brands found in the formal supermarkets have suffered marketing shocks from asymmetric enforcement of official exchange rate policies targeting formal businesses," the report said.
In spite of these disruptive and deleterious monetary and fiscal policy shocks, the report notes that the large-scale broiler production sub-sector has been able to maintain fairly stable broiler meat production at 3 234t to 3 273t between second quarter of 2021 to second quarter of 2022.
"The large-scale broiler production companies have reduced their business exposure to the beleaguered supermarket chains by embracing direct marketing strategies and targeting informal trading vendors into their business. The leading source of growth in the broiler breeder sector has been the small scale commercial broiler farming sector servicing the low income consumer segment," it said.
In the period under review, the sector realised a 33% increase in broiler day-old chick and broiler meat production from 9 038t to 12 014t.
It said the rapid growth in the small and medium enterprises broiler meat production sub-sector has been driving growth in demand for broiler meat and livestock proteins from the low-income urban and rural population.
"The biggest potential for growth in demand for livestock proteins continues to exist among the bottom half of the social pyramid than in the highest-income quartile of Zimbabwe's population already consuming optimal quantities of broiler meat and livestock proteins.
"Potential for further growth in demand for broiler meat exists but rests on reducing average cost of broiler day old chick and broiler chicken production to match the Southern African Development Community benchmark set by South Africa and Zambia," it said.
ZPA said closing the industry-wide gap and variability in technical efficiency relative to international efficiency benchmarks presents significant opportunities for reducing average cost of production at broiler breeder farms and hatchery companies.
However, it said the small-scale commercial broiler production sector has the potential to reduce cost of production and offer more competitive retail prices for broiler meat.
The association said the United States dollar prices of broiler meat remained fairly stable from 2021 to April 2022.
It said when the government directed the Grain Marketing Board to cut supply of maize to the stockfeed industry and ordered livestock sector to increase imports using their own foreign currency in April 2022, the subsequent rise in cost of production induced a big jump in US dollar wholesale prices of broiler meat.
Follow us on Twitter
@NewsDayZimbabwe
Related Topics